It's been a while since I've updated my list for beauty products that I can not live without. Some haven't changed since this post back from 2011, other products have been bumped off the list.  Here are my essentials in no particular order…
1.  Almay i-liner has been my go to for, like, ever.  It's tiny enough to fit in my makeup bag, and precise enough to get a perfect cat eye.  It is super-ridiculously long-lasting too.  I get it in black.  Plus, Almay's products are hypo-allergenic so they won't bother your eyes.
2.  L'Oreal Miracle Blur (oil free formula) .  this was introduced to me by a professional makeup artist that I was fortunate enough to have the chance to work with when I was in Muscle and Fitness Hers magazine (read about that here) .  I'd say it's a drugstore duplicate of Smashbox's PhotoFinish primer.
3.  L'Oreal Visible Lift CC Cream.  It does what it claims to do.  It de-puffs, conceals and gives a lifted appearance.  It goes on with a roller which is pretty cool and doesn't deposit a ton of product on to your skin.  I just discovered this stuff last week and love it.
4. MAC's 217 brush.  This brush is amazing.  It's a fluffy dome shape blending brush.  I use it to put eye shadow in the crease of my lid and it blends like a pro.  I've had mine forever and it's still in great shape.
5. Wet n' Wild bronzer.  Yes, the el cheapo of the makeup aisle.  Just because it's inexpensive doesn't mean you sacrifice quality. This bronzer looks so natural and comes in three shades.  I use Ticket To Brazil every day.  It's not shimmery so it doesn't look fake.  At under $5, you can't beat it!
6.  Anastasia Brow Wiz is the best freaking thing to happen to my face in years.  Polished brows mean you have to wear less makeup to look pulled together.  You're face appears cleaner (more groomed) and more awake.  I've tried many brow products, none of which looked completely flawless.  I have heard nothing but great things about the Anastasia line but didn't want to fork over $21 for a brow pencil.  Finally, I did and I get it.  The hype is real guys.  This stuff looks so natural.  Trust me, it's game changing.  Plus it has a spoolie brush attached to one end.  Win.
7. Maybelline Expert Wear eye shadow in Made for Mocha.  This color is matte and works perfectly with my skin color as a contour powder.  It's only $3 and it is my daily go-to.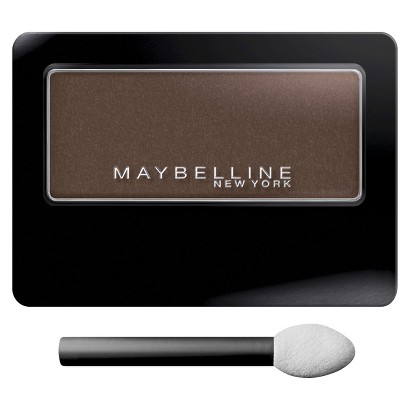 8.  Younique Fiber Lash mascara in black.  This mascara actually got its own post.  Read it here.  This stuff is ridiculously great.  Looks like you have extensions.  Really though.  It even comes in this pretty case 🙂
9.  L'Oreal Voluminous in carbon black.  This is the holy grail of black mascara.  The pigment is a true black which makes your lashes appear thicker, fuller and longer.  It layers perfectly and doesn't flake off.  I layer it over the Fiber Lash for extra intensity or wear it alone for an everyday look.
10.  Makeup Forever HD transluscent powder is the last step of my makeup routine.  It sets makeup and makes it last ALL DAY while gently blurring any small imperfections.  It lasts forever.  A dusting goes a very long way.
11.  Chanel Mat Lumiere liquid foundation is my favorite foundation I've tried.  It smells great, feels light but most importantly looks amazing.  One pump of the product provides enough coverage for my whole face and lasts all day.  I buy mine straight from the Chanel website and they ship it free along with a cute teeny canvas bag and samples.
12.  L'Oreal HIP eye shadow duo in Shady.  These two colors work on every skin tone.  You can amp up the dark brown for night or use it as a soft liner.  The lighter shade looks beautiful alone or with the darker shade.  This whole product line is comparable to MAC since each color is highly pigmented.
13.  Revlon Super Lustrous lipgloss in Peach Petal is a duplicate of MAC Lipglass in C-Thru (which was my old favorite).  It's sheer so it adds dimension to any lip color you layer it on top of.  You can also wear it alone for a shiny nude lip to compliment a smokey eye.
14. Q-Tips.  I use these puppies to even out my liquid eyeliner every single day and to wipe any mascara that ends up on my lids.  I couldn't NOT have these on my list of favorites.
15.  Stila eye shadow in Kitten is super-versatile.  I use it on my lids and as a highlighter on my cheekbones or anywhere else that I want to add some light to.  Stila's shadows come in generous portions and have  a smooth application.  This is another color that works with all skin tones.
What makeup product can't you live without?  Please share in the comments!  Love you guys!
xo,
Mindy