Happy December!  I want to share with you guys a sweet little round up of some unique secret Santa gift ideas.  They will not want to re-gift it like last year's unfortunate victim.
There are two types of people this time of year.
These people…
And these people…
I am the latter.  Michael Buble holiday station has been on  heavy rotation for the past three weeks.  Our decorations have been up since Thanksgiving.  I'm that person.  I swear on my kids I ate four ginger cookies before noon today.
I wish I was joking.
Gift buying can be tough, especially when it comes to a Secret Santa.  It's awkward to shop for coworkers that you may not know very well.  The trick is to make the gift thoughtful.  Nobody wants something scrappy or last minute.  Those gifts tend to be almost insulting as if the recipient wasn't worth a little thought and planning.  Do a little prodding around the office to find out an interest of theirs.  These gift ideas are simple yet functional and awesome!  And under twenty five bucks.
*********************************************************************************************
For the happy hour lover:  something fizzy!  Nothing brings on the holiday cheer like a flute full of bubbles.  I would not be mad to unwrap this.   Poema Cava Brut is $17 which leaves some cash left over to buy a couple of glasses from Ikea and turn this into a pretty amazing gift bag.  
For the group texter: touch screen responsive gloves.  Those fingers will stay warm while he or she is busy tweeting their favorite National Lampoon's Christmas Vacation quote.  $15 means you can throw in some candy or a Starbucks gift card too.  Double win. Get them here.
3.  For your sarcastic co-worker:  Snarkasms desk calendar.  Give them a daily dose of their favorite snarky humor.  At about $15, you'll still have some cash left to buy a few teeny bottles of Fireball Whiskey to wash down the sarcasm.  Buy one here.
4. For the social media selfie queen:  A profesh smartphone camera set up.   This is pretty legit.  I'd say a guaranteed minimum 100 likes.  $20 for the entire kit and  a 4 star rating from almost 300 Amazon members, let's call this a score.  Buy it here.  
5.  For the beauty guru:  Smashbox Try It Kit.  Hit up Sephora for this set that is flattering on every skin tone.  $18 will even allow you to toss in a few nail polishes or a gift card for a  manicure at a local salon if you want to for over an extra $2-$3.
6. For the sweet tooth: Mrs. Prindables gourmet dessert apples.   There are so many different varieties.  Chocolate covered caramel apples are a decadent no fail.  $19.99 for two.  Click here to find some yummy treats.  Bonus points if they cut it up and leave out "samples" for everyone around the water cooler to taste.
7.  For the friend that is zen:  Blooming tea set.   $20.  When you put the ball of tea into the pot, it actually blooms.  Too . Pretty. To. Drink.  Get it here.
8.   For the outdoorsy friend:  A portable hammock $19.79 here.   This gift might inspire an impromptu hike followed by a fantastic nap.   Me love nap.
9.   A great mug with a coffee shop gift card or a pack of k-cups.  Anthropologie makes these beauties for $10, they're personalized and will look nice sitting on his or her desk.  Perf.  Click here for those.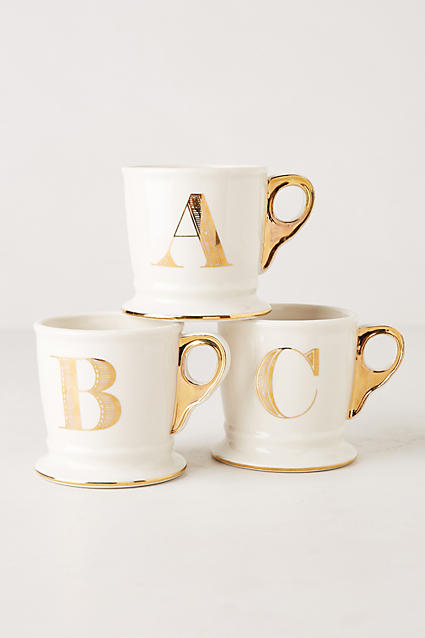 10.  A goodie bag/box.  This is kind of a freestyle gift.  If they're sporty, include Gatorade, protein bars, etc.  If they're a gambler, a few scratch-offs stuffed here and there would be great.  If they're girly, some nail polishes.  Some candy and personalized trinkets like a monogrammed key chain would finish this gift.
** for an almost free gift idea, try this 30 minute arm knit infinity scarf!**
Or this dollar store DIY
*********************************************************************************************
Here's my gift guide for your man!
Gift guide for kids 5 & under here.
Check out my gift guide for her here.
Win the "Coolest Co-Worker" title by making these puppies for the office party.