I'm not a planner.  I'm a fly-by-the-seat-of-my-pants kind of gal. When I plan stuff out, things never go according to the plan.  The more detailed my plan is, the more off it seems to get.  I know this about myself, but somehow chose to ignore it recently.
Let me explain.
If you follow me on Twitter (@FindingSilverLinings), then you probably know about my meltdown.
Initially, in my dream world, I "planned" on the Jameson set from Restoration Hardware…*swoooooon*.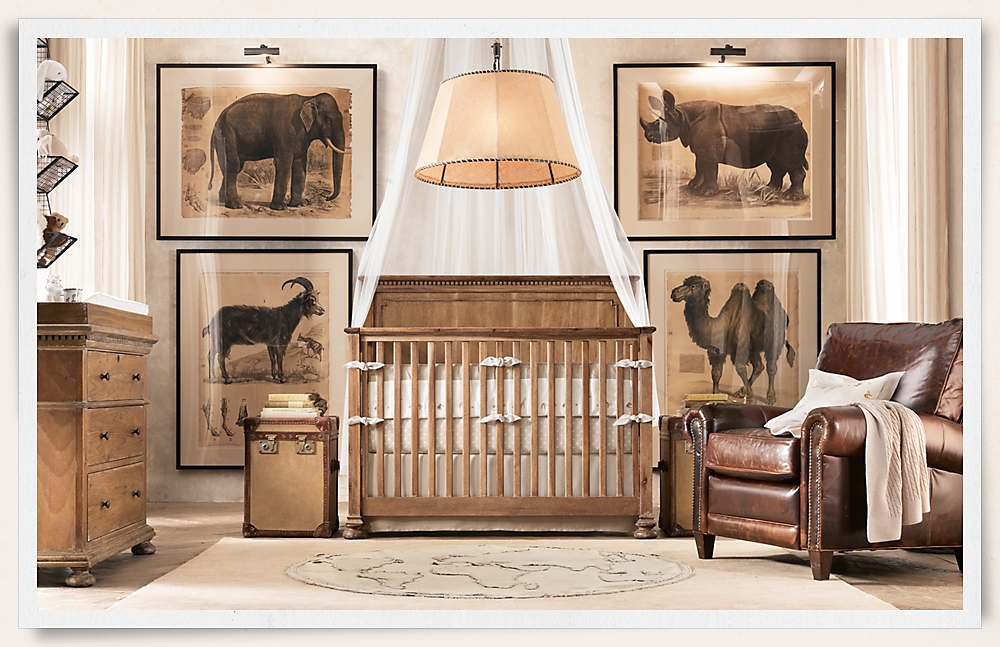 I love the antiqued natural wood and the carved in details.  Love is actually an understatement. Completely obsessed is more like it. However, the crib is $1200, the tall dresser  is $1300, the low dresser is $1150.  This makes the grand total for 3 pieces of furniture, plus $125 flat delivery fee……… $3,775.00.   In other words, not happening.
A few months ago, I made a neutral moodboard for the new baby's room.
I took it a step further and planned out the tweaks I'd make to the room if the baby is a boy.
And if it's a girl.
See, nice little plan going on here.  All of this was based on THAT crib.   The crib got about  250 wonderful reviews on Amazon.com  *thumbs up*.  I noticed that the company that makes the crib didn't sell any furniture that was the same color as the crib.  Somehow, I thought things would just work out and I'd find a match.  My mom ordered the crib and it was sent to our house.  About 2 weeks ago, we decided to try to put that thing together.  When we opened the box, the color of the wood was very different from what I was expecting, not in a good way.  We took a piece of wood from the crib and drove to about 4 different stores trying to find furniture that matched.   No luck.  We were the crazy people walking around with a four-foot board and a huffing angry preggo.  Not a pretty sight people.
After a week of mourning over my shattered nursery vision (Mr. FSL says I'm being dramatic about it.  I say I'm passionate 😉 ), I stopped sulking and found myself sulking pouting wandering around Babies R Us.  I stumbled upon a furniture set that I loved!
I made a couple moodboards (without the help of mydeco.com because their moodboard section is out of commission 🙁  )  It's a bit sloppy, but you can get the general idea.
I saw this set in person, so I know what it looks like without monitor color distortion.  The wood finish is called driftwood, and has small carved in details.  Plus, the SET is available *long dramatic exhale of relief*.  And affordable 🙂
That's our light we just installed (yes, I'm obsessed with it).
What do you guys think?  Like it?  Don't like it?  I'm curious.