Being Italian American, pasta sauce is traditionally reserved for Sunday dinner.  The sauce cooks for hours and hours.  These days, the quicker I can prepare dinner, the better.  This is not a recipe for Sunday sauce.  I don't even think I could post that one if I tried.  I don't measure.  I just start tossing stuff in the pot adding ingredients until it tastes right.
I was flipping through a back issue of Cooking Light Magazine before food shopping.  When the magazine comes in the mail, I scan it for recipes that sound tasty and I fold down the page for when I'm sick of our dinner rotation.  I was needing comfort food.  Specifically pasta.  I didn't have all day to make sauce and my grandmother would disown me at the thought of buying pre-made sauce.  I found this recipe and it looked like a fresh and simple quick sauce.
The methods used in this recipe were really different to me, but take my word on this.  It is fantastic!  Light in calories and full of flavor.  I served this over Barilla plus pasta (extra protein in it) with a side salad.  It's the perfect weeknight meal.
Since the weather is warming up, I used my toaster oven instead of cranking up the big oven for a small dish of tomatoes.  Ain't nobody got time for dat.
I lightly adapted it from Cooking Light Magazine.  Here's my version…
Quick Tomato Basil Pasta Sauce

Print recipe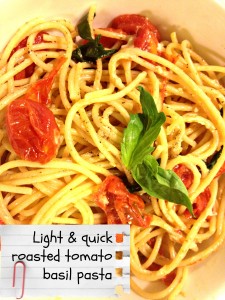 Ingredients
2 pints grape tomatoes
1/4 cup extra virgin olive oil
1/2 teaspoon kosher salt (to taste)
1/4 teaspoon black pepper (freshly ground)
1/4 cup fresh basil (roughly chopped)
4 cloves garlic (roughly chopped)
1/2 cup Parmigiano-Reggiano cheese (grated or shaved)
1 box spaghetti
Directions
Step 1
Preheat oven to 450 F
Step 2
Bring a large pot of water to a boil; add 1 tablespoon salt. Add pasta; cook 10 minutes or until al dente. Drain pasta in a colander over a bowl, reserving 6 tablespoons cooking liquid.
Step 3
Return pasta to pan. Combine reserved cooking liquid and 2 tablespoons oil in a small saucepan; bring to a boil. Boil 4 minutes or until mixture measures 1/3 cup. Add oil mixture to pan with pasta; toss to coat.
Step 4

While pasta cooks, combine remaining 2 tablespoons oil, tomatoes, and garlic in a glass baking dish, tossing to combine.

Step 5

Bake at 450° for about 10 minutes or until tomatoes are lightly browned and begin to burst. Add tomato mixture, 1/2 teaspoon salt, and pepper to pasta; toss to coat.

Step 6

Stir in cheese and basil. Sauce should become creamy. Serve.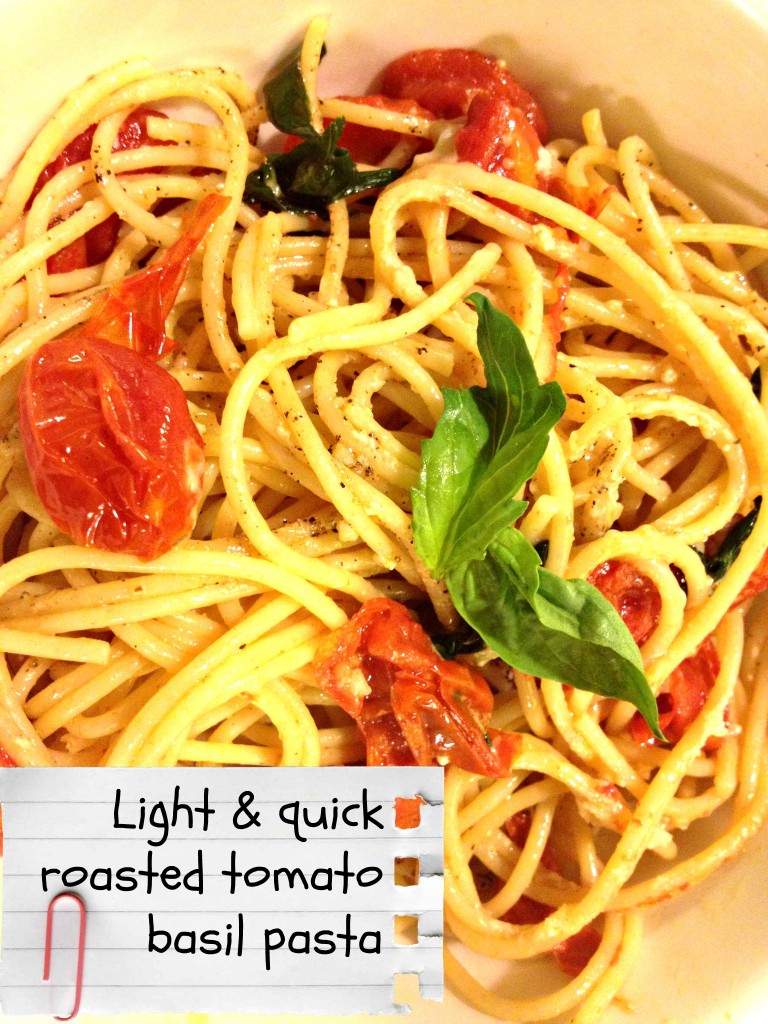 Pin this, print this, bookmark it or whatever you have to do to make this meal happen.  It's light, and delicious.  Enjoy!
If you like this post, you'll love these: